Description
Intermediate Class for IDU
Learn to use the charts IDU from the beginning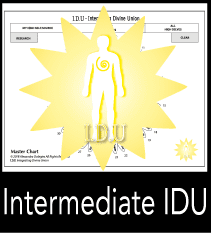 In this 2 hours Class, you will learn:
The basic on "how to use the charts".

The different elements and meanings.

The foundations and pillars.
Prerequisite:
You will need:
To purchased the charts and make sure to play around with the charts 2 weeks prior the date of the class, you need to get familiar with it. Buy the charts here: IDU-INTEGRATING DIVINE UNION
To feel very familiar with the pendulum, already know different dowsing techniques such as  "corner dowsing" and "3 way dowsing".
To have completed any pendulum class and use charts, if not please take "the pendulum class" first.
Watch the video "Clearing blocks to using IDU charts" a few times.
Email me to schedule your class:
spiritualhealingtherapy@gmail.com